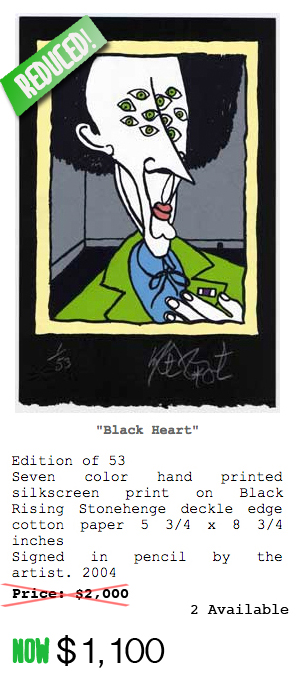 Before placing an order, please read the following instructions to the end:
These are original artworks in limited editions — created, signed, and numbered by Kurt Vonnegut. They are not "copies." They are available through our Kickstarter campaign for Kurt Vonnegut: Unstuck in Time.
Peruse this page and pick out the piece(s) that you want. You'll note that in the final days of our campaign, we have significantly reduced the pledge level of many of these pieces. Make sure to note the current price of the piece you want. Then go back to our main Kickstarter page where you'll find specific pledge boxes for each price point.
To order one of the pieces at the $950 level or $1,500 level, find the pledge box for "ORIGINAL VONNEGUT ARTWORK" at the appropriate level and make your pledge. Then "Message" us to tell us the specific piece you want by name. We will confirm availability with a return message.
Note that there are specific pledge boxes for the following pieces: "Black Heart" ($1,100), "Don't Spoil the Party" ($1,200), "Trout in Cohoes" ($1,500), and "Trout's Tomb" ($2,000). If you want one of these pieces, be sure to pledge by name in the appropriate box.
If you want more than one piece, click on the "ORIGINAL VONNEGUT ARTWORK" box, but enter an amount that includes the total price of all the pieces you desire (including shipping for a single order), then "Message" us to tell us the pieces you want, by name.
If you have any other questions, please "Message" us, or write us at info@.
Thank you for your support, and enjoy your unique artwork by Kurt Vonnegut!